At Saint-Charles, we accompany your child to ensure their success by providing them with the tools to make the right choice for both of you. Our structure makes it possible to postpone student orientation until transition to secondary school. Orientation takes place at the end of the 9th year, on the basis of academic results, as part of the secondary A or secondary B pathways.
Orientation in the 9th year takes place in small classes. Pupils are supervised by teachers whose goal is to help them to progress, in order to make wise choices for the rest of their time at school.
The pre-gymnasial "A" pathway is intended mainly for students wishing to pursue further studies after the end of compulsory schooling. The work is fast-paced and demanding. This course offers pupils a Latin option, which is essential for learning this language in high school, or a science option that includes the study of physics and applied sciences and an hour of technical drawing.
The general "B" pathway is aimed at pupils intending to go on to (among other possibilities) a commercial school, a general education school or an apprenticeship. The main branches are recognised by the canton of Jura as level "B".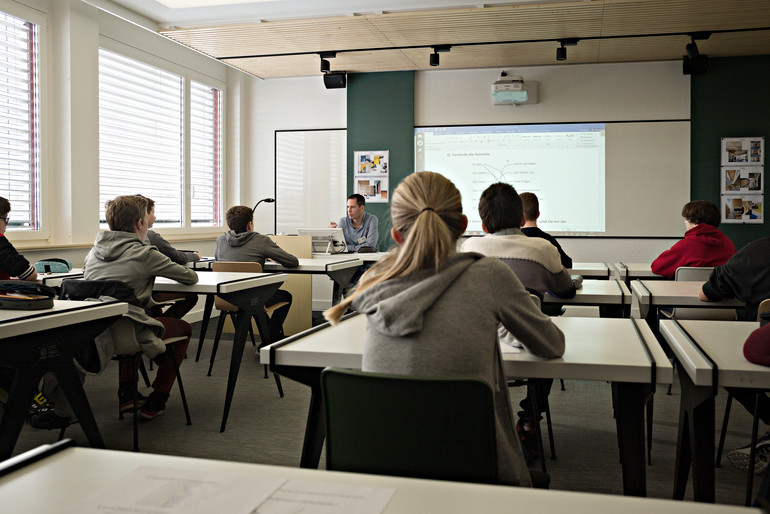 Photographer: Michele Limina/Bloomberg
Supervised homework
After lessons, students can stay in the Collège and work with the school teachers to do supervised homework. Students at the Collège also benefit from supervised homework sessions at midday. There, they also learn how to plan and organise knowledge acquisition.
Language-learning stays abroad
Thanks to the school's partnerships with schools in Germany and Great Britain, our students have the opportunity to go on language-learning stays abroad in the 10th HarmoS, lasting between 1 and 3 weeks. If travelling makes a youngster, languages are without a doubt the master key to a personal and professional journey filled with rich interactions.
Program
Year
Program
9

th

Orientation year in small classes
10

th

Secondary A
Science or Latin options

Secondary B

11

th

Secondary A
Science or Latin option
French/foreign language courses

Secondary B
French/foreign language courses